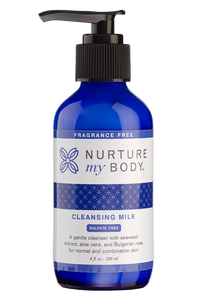 NURTURE MY BODY Cleansing Milk (Fragrance Free ) 有機洗面奶 (無香味)
Regular price $43.00 $43.00 Sale
Nurture My Body Organic Cleansing Milk有機洗面奶 (無香味) ,含14種有機認證成份。有效清潔日常污垢和卸妝後殘留物。不會過度洗走皮脂膜,洗面後皮膚不會變乾或崩緊,回復潔淨,軟滑、亮澤。是敏感皮膚不可少的有機洗面奶。

海藻軟化滋養肌膚,促進再生,幫助肌膚形成保護屏障,增強肌膚彈性,令肌膚細緻軟滑透亮。
蘆薈軟化、滋潤、保濕,平衡肌膚天然pH值,修復受損皮膚組織。
保加利亞玫瑰保濕、美白、抗敏抗氧化、平衡肌膚、調節皮脂、鎮靜受損肌膚。 高油酸紅花油抗氧化、抗衰老、抗炎、舒緩泛紅。
不含Paraben防腐劑、Sulfate硫酸鹽、塑化劑、人造香料、色素、MIT、甲醛、礦物油等有害化學物質。
不含麩質、果仁。非基因改造,不經動物測試。
適用對象:一般、混合性、乾燥、敏感、濕疹傾向肌膚、孕婦。
使用方法:濕面後,加1-2粒黃豆大小份量打圈按摩清潔,抹去潔面乳,然後沖洗。
容量:120 ml
產地:美國
成分:Purified Water, Vegetable Emulsifying Wax NF, Chondrus Crispus (Seaweed) Extract*, Aloe Barbadensis (Aloe Vera) Gel*, Vegetable Glycerin, Carthamnus Tinctorius (High Oleic Safflower) Oil*, Sesamum Indicum (Sesame) Oil*, Arctium Lappa (Burdock Root) Infusion*, Humulus Lupulus (Hops Flowers) Infusion*, Echinacea Angustifolia (Coneflower) Infusion*, Plantago Major (Plantain Leaf) Infusion*, Taraxacum Officinale (Dandelion Leaf) Infusion*, Taraxacum Officinale (Dandelion Root) Infusion*, Rosa Damascena (Bulgarian Rose) Hydrosol*, Hamamelis Virginiana (Witch Hazel) Hydrosol*, Xanthan Gum, Rosmarinus Officinalis (Rosemary) CO2*, Salvia Officinalis (Sage) CO2*, Citrus Paradisi (Grapefruit) Extract *Certified Organic
注意事項
建議開封後半年內使用完。請勿存放於高溫或日光直射的地方。 使用後若有過敏或不適請即刻停止使用,並請教醫生。
Nurture My Body Cleansing Milk effectively washes away daily residue and makeup while maintaining skin's balance and preventing breakouts.
It contains 17 all-natural organic ingredients include seaweed and aloe vera to nourish and soften your skin, and Bulgarian rose to reduce breakouts with its natural antibacterial and antiseptic qualities.
Pairs well with Nurture My Body Toner, Reparative Serum, Eye Cream, and Vita C or Moisture Cream.
Gentle, natural formula 

Nourishes, softens and cleanses with certified organic ingredients 

Gentle and effective for all skin types 

Made in the USA 

Never tested on animals 

Size - 4 fl oz - 120 ml